Bruno's favourite canvases for strategy, experimentation, and customer experience
Five canvases worth trying.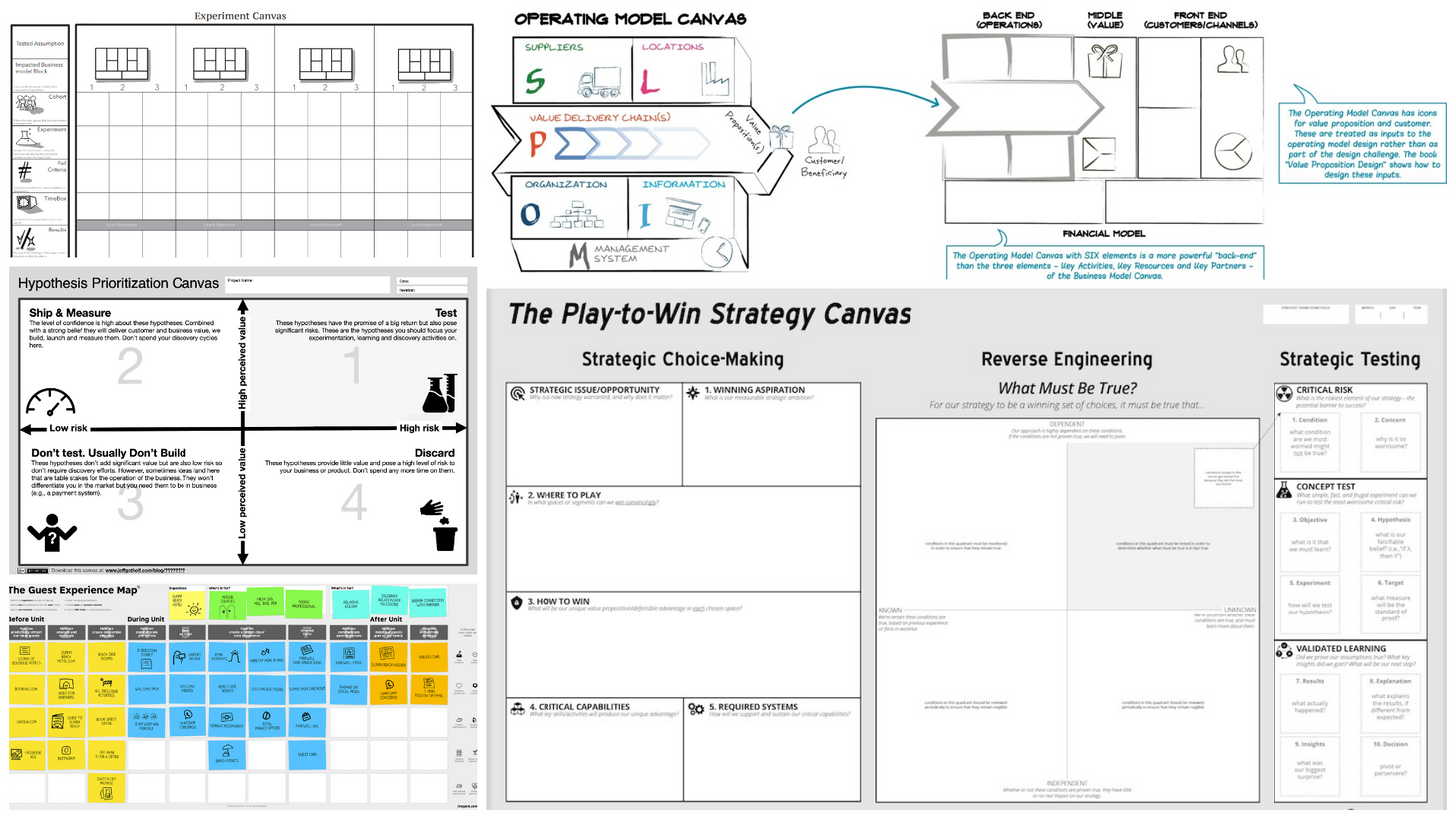 There are so many canvases out there that it is ridiculous. And most of them are just flat out bad, without any consideration of using it as a visual inquiry tool. Yves Pigneur counts conceptual model (ontology),  shared visualisation (empty problem spaces), and directions for use (great UX) as the most important design principles of a visual inquiry tool.
Since my clients are primarily large organisations looking to maximise their investments in innovation, most of my favourite tools are related to strategy and experimentation. Here they are, listed in no particular order.
Operating Model Canvas by Andrew Campbell

Operating Model Canvas is an extension to the left side of the Business Model Canvas, similar to how the Value Proposition Canvas expands on the Customer Segment and Value Proposition block. I find it most useful for mature business models, since they benefit most from finer granularity. From the Operating Model Canvas website:
The great strength of this enhanced canvas is that the left-hand side is focused on the processes (the middle arrow) – the value chain of work steps needed to deliver the value proposition.  It is then easy to think about how the other elements – organization, information, location and suppliers (the four boxes around the arrow on the left-hand side) – can be designed so that they support the main work steps in delivering the value proposition.
The other strength of this enhanced canvas is that it directly addresses important issues such as people, organization structure, location and information systems that are critical to the operating model, but often given too little attention when thinking about the business model.
The book Value Proposition Design enhances the right-hand side of the Canvas adding dimensions such as the customer's needs, pains and gains.  The book Operating Model Canvas enhances the left-hand side adding dimensions such as the value chain, organization and location.
The canvas and some of the tools it includes are a bit rough around the edges, but Andrew's wealth of experience which he generously shares is invaluable. If you'd like to dig deeper into it I suggest beginning with Operating Model Canvas in 3 minutes post, followed by The Operating Model Canvas: The best tool for business designers, architects, strategists & experts and Operating model design: six core tools for operating models, business architecture and design videos. And then get the book.
Play-to-Win Strategy Canvas by Matthew E. May
I'd describe Matthew's Playing to Win Strategy Canvas as three tools rolled into one canvas, with wording adapted to match what senior management would expect. The canvas is divided into three connected blocks:
Strategic Choice-Making, with five questions from Playing to Win
Reverse Engineering, a matrix to surface and map assumptions
Strategic Testing, for designing an experiment to learn more about critical risk
The canvas visualises the fact that strategy is a set of assumptions with varying degrees of uncertainty, which can be lowered by running experiments. Matthew is a prolific writer and you'll be better off by reading any of his books or articles.
Experiment Canvas by Dan Toma and Tendayi Viki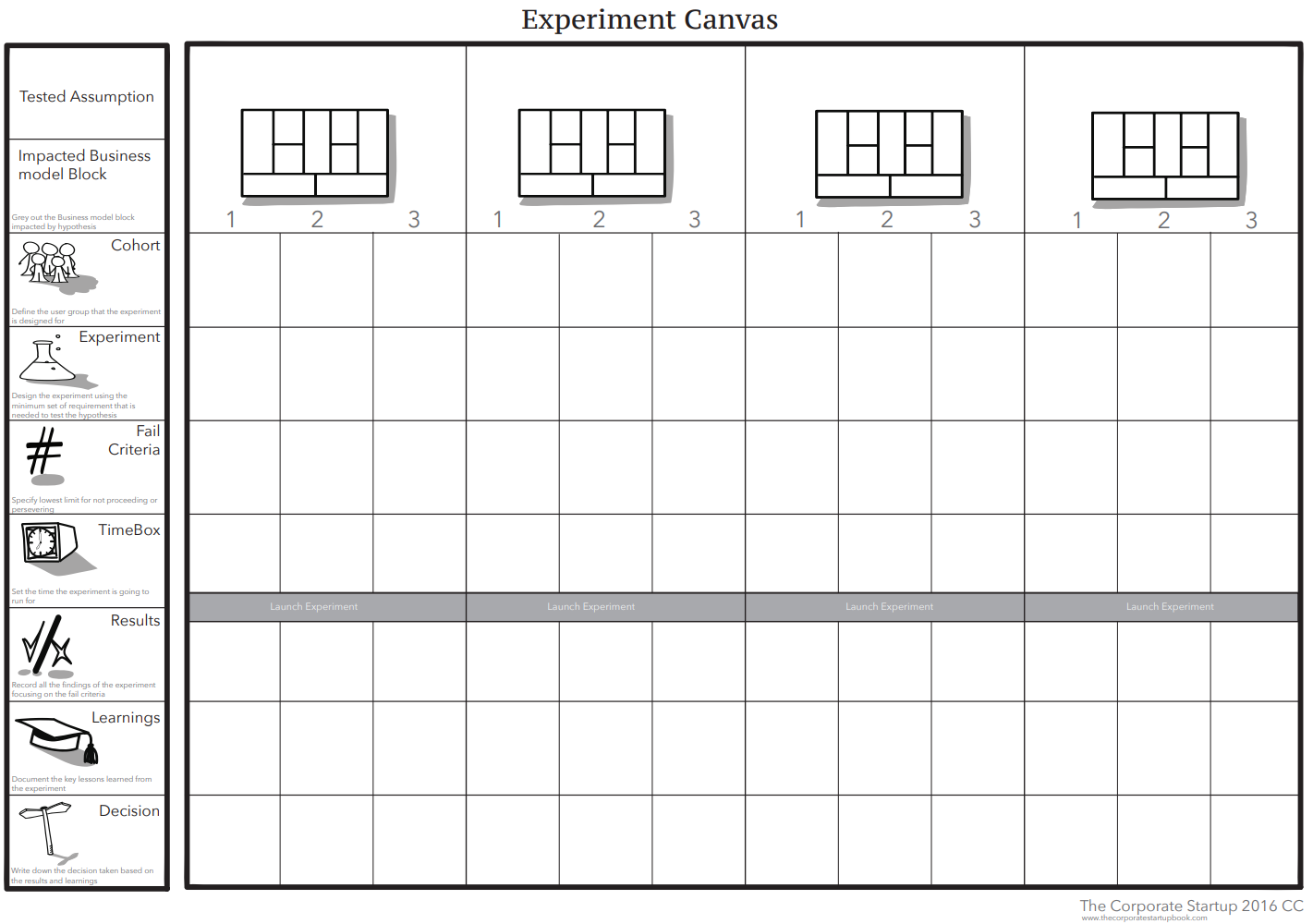 Experiment Canvas is a part of the Corporate Startup toolbox. Dan wrote a blog post explaining how to use it. I found that teams benefit the most from the experiment canvas when they use it to visualise their experimentation pipeline and validated learning, i.e. when they use it as a dashboard. In order to ensure that critical assumptions are tested I suggest coupling it with Dan's HiLo matrix or Jeff's hypothesis prioritization canvas.
Hypothesis Prioritization Canvas by Jeff Gothelf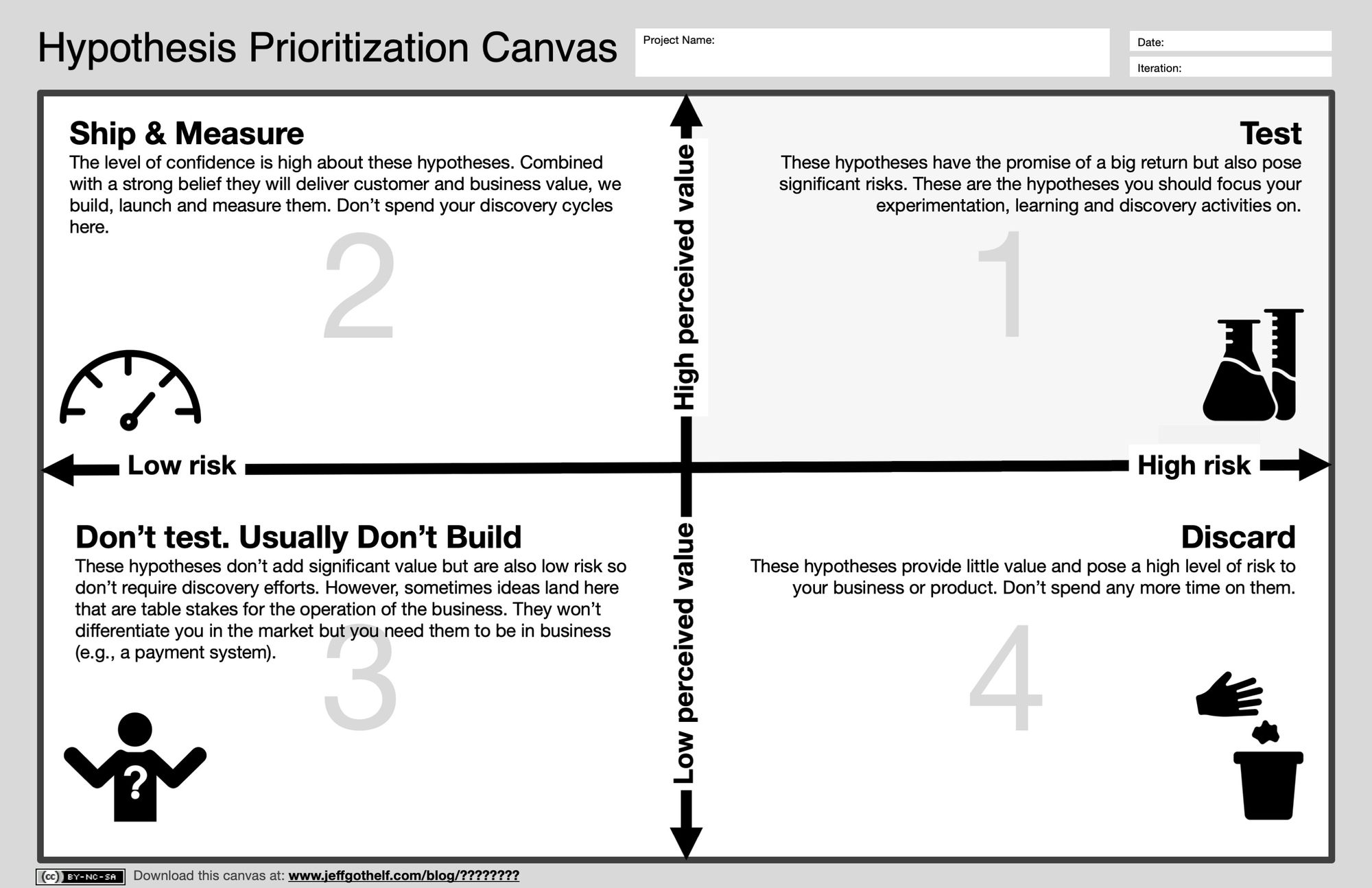 There will always be more assumptions than you have time to test. Given how popular experimentation is today, it is important to remind ourselves that we should be testing most critical assumptions first. Anything else and we are risking wasting precious time.
The Hypothesis Prioritization Canvas is one of the tools that can help with that. The best time to use it is once you have generated a list of assumptions. It can be coupled with any canvas that includes assumptions. Jeff wrote a concise how-to guide.
The Guest Experience Map by Jesse Desjardins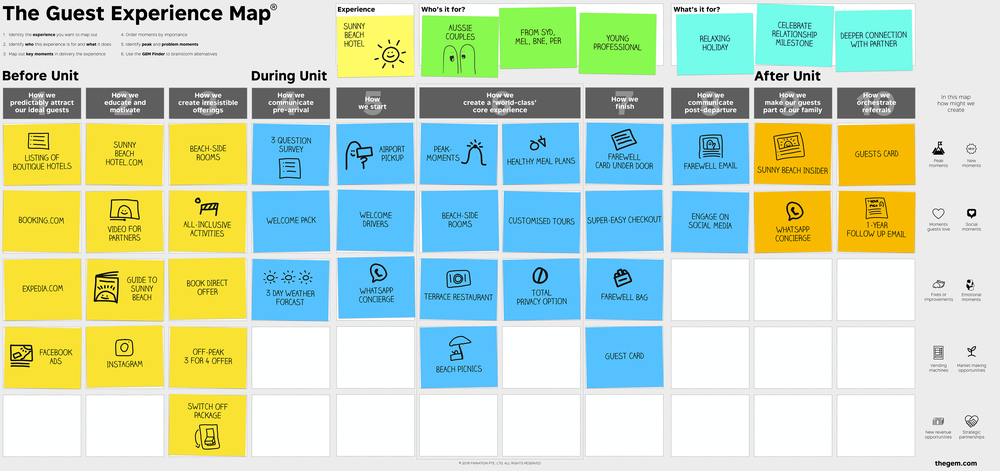 I met Jesse at the Strategyzer Bootcamp in 2018, where he presented one of the first iterations of The Guest Experience Map. Although the canvas was rough, Jesse made an impression on me as a person exorbitantly passionate about creating the best customer experience in the hospitality industry. He took the lessons from the bootcamp, kept testing and iterating, and today we have a collaborative tool to help you design a better guest experience, create team alignment and generate results faster. It's pure joy to use.
---
This post was originally published on Playing Lean blog.
Bruno Unfiltered
Subscribe to get the latest posts delivered right to your inbox. No spam. Only Bruno.
Comments