Translating Strategy into Action at Ashridge
What have I learnt at the three day Translating Strategy into Action course at Ashridge Executive Education?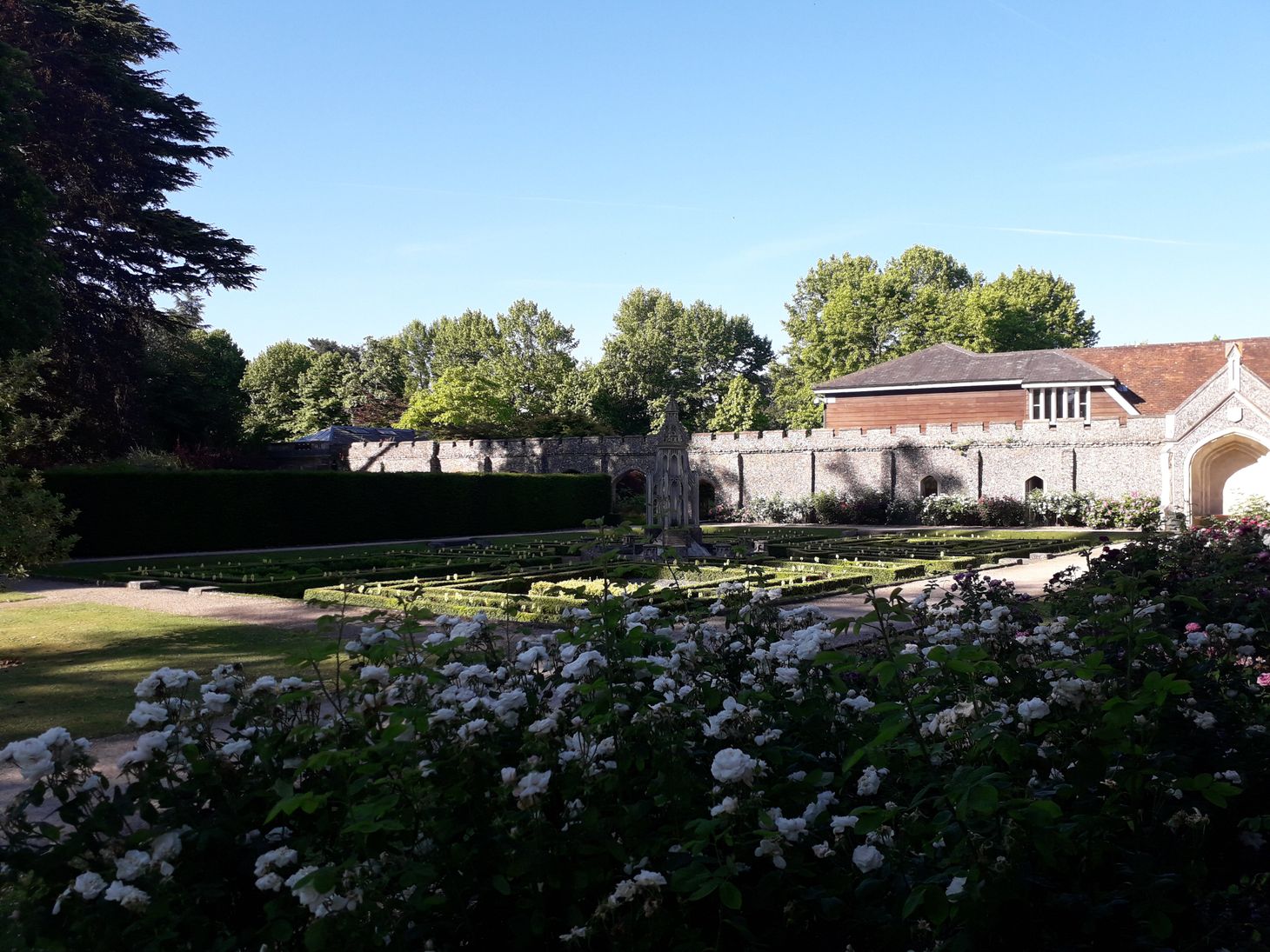 This was my third course at Ashridge, and second in the Strategy series.
It's promise is that one will learn simple yet powerful, tools to become the 30% that actually drives abstract strategy from conception all the way through to completion.
Read about my experience and key lessons learned.
Translating Strategy into Action
This three day course focused on the drivers of successful execution:
translate goals,
engage people,
exercise discipline, and
adapt and evolve.
Lecturers were Hamish Scott and Stephen Bungay:
Hamish is a specialist in business strategy. He works with a number of corporate clients on executive development and strategic change initiatives. He advises on processes for strategy formulation and implementation and is particularly interested in how strategy inter-relates with every part of an organisation.
Stephen Bungay is a Director of the Ashridge Strategic Management Centre, and teaches on several executive education programs at Ashridge. One of the key concepts he explores is the distinction between the strategic, tactical and the executional levels in organizations, which effectively overcomes the difference between strategy development and implementation.
Experience
When I was looking at the course brochure in 2017, it Translating Strategy into Action was positioned as an intermediate course. That's why I was a bit confused that there were no links to the previous course – Strategic Decisions – and that some definitions of strategy were not consistent.
Course mixed lectures, exercises on our own cases,  analysing other cases (both written and recorded), and break out discussion sessions. It was entertaining dissecting scenes from the Gladiator.
I felt that translate goals and exercise discipline were covered superbly, unlike engage people and adapt and evolve:
Former was an unfocused mixed of topics on collaborating, influencing, and behaviour design. Tools were more abstract without clear link to other tools. I believe that the team alignment map or some form of team charter would be better tools for the collaboration section, and tiny habits recipe for behaviour design. Both of these are highly practical, and can be directly linked to translation tree and/or strategy briefing.
Latter was skimmed over, and topped of with an interesting, but confusing Enabled for Evolving Execution model. It seemed promising, but unfinished. Perhaps if all time was dedicated to a single model there would be more educational impact.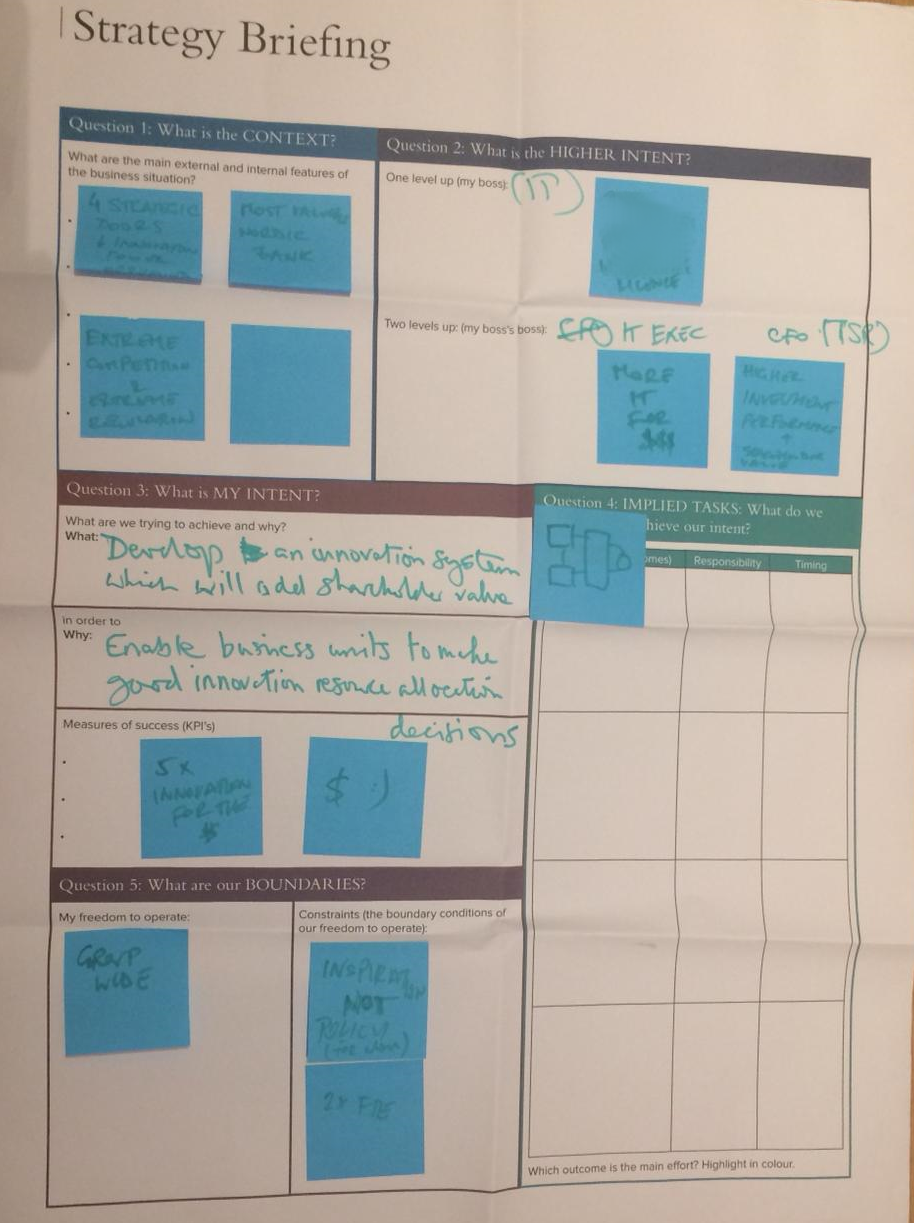 Key take-aways
In three days I've written 20 pages of notes. These are my personal highlights.
On requirements for successful execution:
leadership aligned with the type of change (technical vs. adaptive),
an organisation which is ready, willing, and able, and
a profound understanding of the three critical gaps.
Formulae for communicating decisions:
Intent = Task + Purpose
Decision = Intent + Situation
Tools for translating goals:
Strategy translation tree. In order to [___], we must [___], [___], and [___].
Strategy briefing. One page document which should contain answers to following questions: (1) what is the context?, (2) what is the higher intent?, (3) what is my intent and how will I measure it?, (4) what are the implied tasks?, and (5) how are boundaries defined? Stephen's HBR article on it.
Tools for engaging people:
Beonion. Play of words combining belief and onion, presented as a diagram with belief as the core. On top of it come, in layers, behaviours, messages, processes, and actions.
Behaviour mapping.  A tool for understanding why people do what they do, so appropriate organisational levers can be used to adjust organisation's behaviour.
Ashridge mission model. Connects purpose, values, behaviour standards, and strategy.
Currencies of exchange. From the work of Cohen and Bradford, currencies can be related to inspiration, task, position, relationship, or person.
Eight steps for exercising discipline in strategy execution:
Define purpose.
Generate possibilities.
Make choices.
Make plans.
Decide and mobilise.
Act and report.
Assess.
Reset and redefine.
Tools for adapting and evolving:
Enabled for Evolving Execution model. Attending to following four questions increases the likelihood of execution success: (1) how we lead and set direction, (2) how we plan and monitor action, (3) how we set up the organisation to deliver, and (4) how we invest and create return.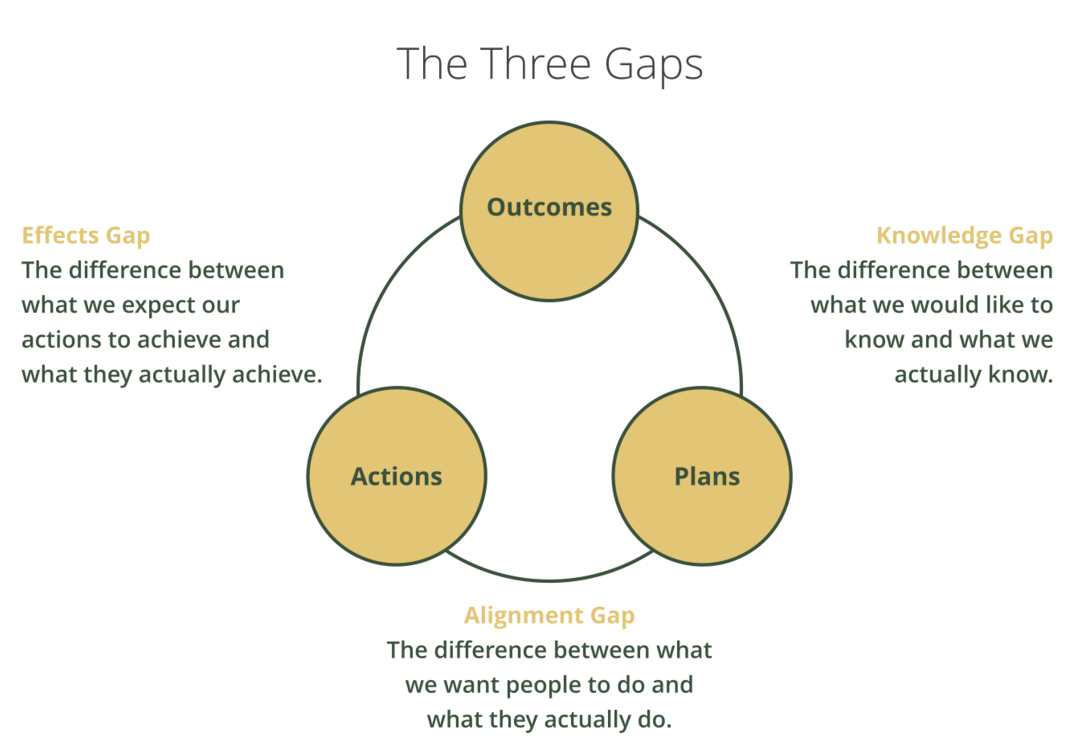 Concluding remarks
This course was a great continuation to the Strategic Decisions course, expanding my strategy toolbox and deepening my understanding of why execution is so difficult.
Read more about my experience with other Ashridge courses here.
Bruno Unfiltered
Subscribe to get the latest posts delivered right to your inbox. No spam. Only Bruno.
Comments