How to maximize the profitability of your innovation efforts and grow your business
Corporate innovation is about mastering doing and managing innovation.
It doesn't matter how fast you can develop ideas if you don't know how to scale and integrate them in your organisation; nor does it matter if you have great innovation governance structure unless there is something of value to govern.
If you wish to innovate profitably, you must continuously improve on both fronts.
And in this session I will provide you with the essential tools to get you started.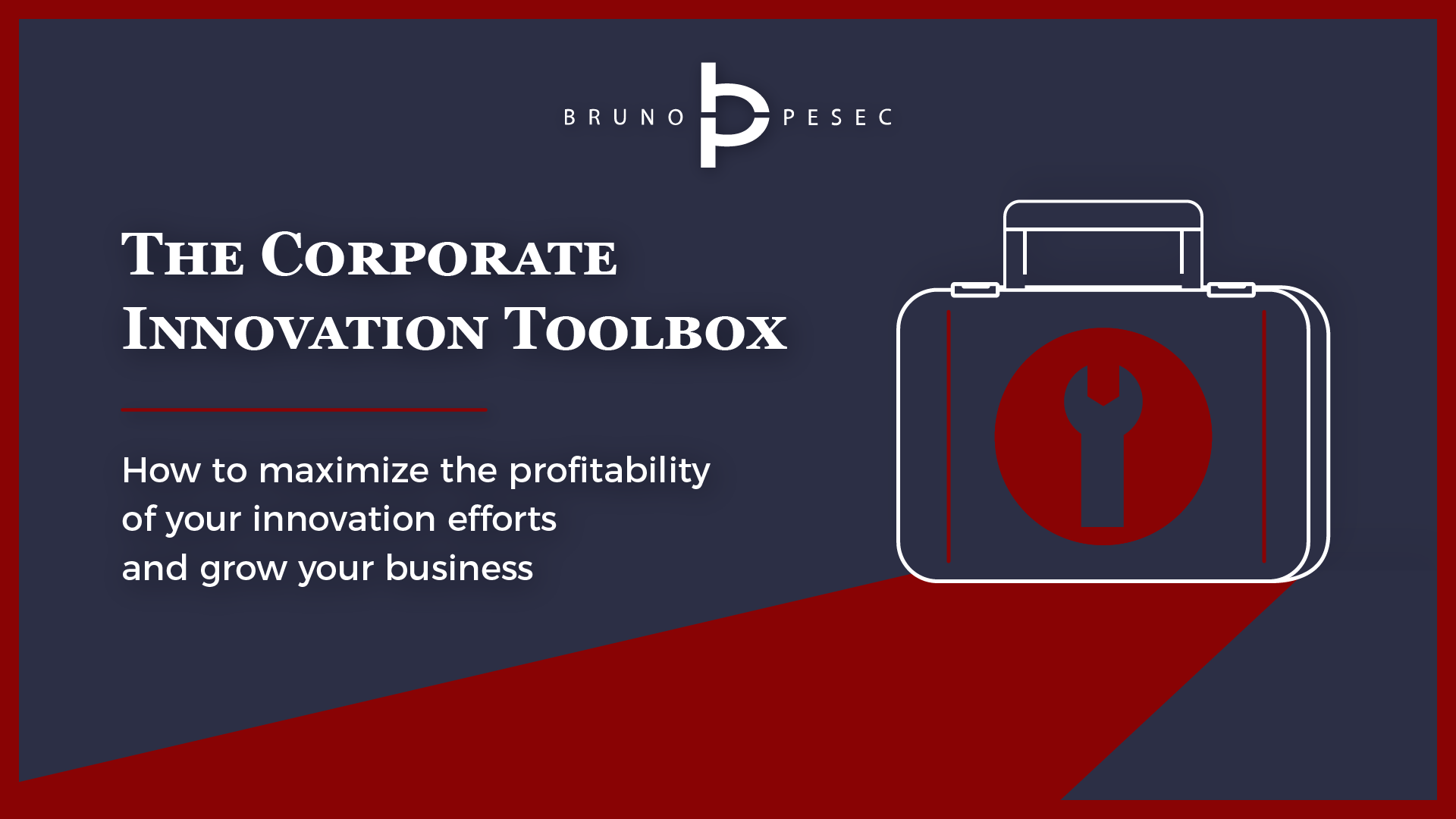 Who would benefit from participating?
Innovators who want to develop their ideas faster and with more support from the organisation.
Managers who want to professionalise how they measure and manage innovation.
Leaders who want to align and focus innovation throughout their organisation.
Are you ready to take your innovation game to the next level?
In this two-hour session I'll share with you the essential corporate innovation toolbox that you can immediately use:
Tools for doing innovation:

Idea Napkin*
Business Model Canvas & Lean Canvas
Lean Experiment Canvas*
Tools for managing innovation:

Innovation Strategy Canvas*
Innovation Funnel*
Innovation Portfolio*
Tools for the interface between doing and managing innovation:

Innovation Team Charter*
NEXT Canvas
Tools marked with asterisk (*) are from my consulting practice, now shared publicly for the first time ever.
Above tools will help you with:
Describing, documenting, and capturing ideas.
Assessing the maturity of ideas.
Setting up minimal innovation projects that produce maximum progress in shortest period of time.
Extracting value out of innovation projects that failed or stopped.
Identifying growth opportunities in your market and organisation.
Deciding how to approach different types of innovation.
Creating a living innovation strategy.
Assembling the innovation portfolio aligned with your ambitions.
Measuring innovation at a team, managerial, and strategic level.
Improving how you make investment decisions.
Instituting an effective innovation governance system.
Kick-starting your own corporate innovation toolbox.
I've experienced and overcome most of the challenges that await you on your innovation journey.
That is why I'll be sharing only the practical, proven and useable advice, which you can immediately apply to your innovation efforts.
I'll take all the questions at the end of the session, regardless if it takes us 15 minutes or 15 hours to go through them.
After the session you will receive:
PDF of The Corporate Innovation Toolbox that contains all 9 tools.
PDF of The Corporate Innovation Toolbox Workbook that contains guidance on how to use the tools.
PDF of the presentation used during the session.
9 Big Don'ts of Corporate Innovation ebook.
A copy of the recording which you can watch at any time, and as many times as you like.
When and where:
This session will take place on Tuesday, June 29th, from 09:00 to 11:00 CEST. Check the time in your time zone here.
The session will be conducted online via Zoom. You will receive meeting details several days before the session.
Take the leap
Early bird price of €50 available until June 1st.
After that, the full price of €100 applies.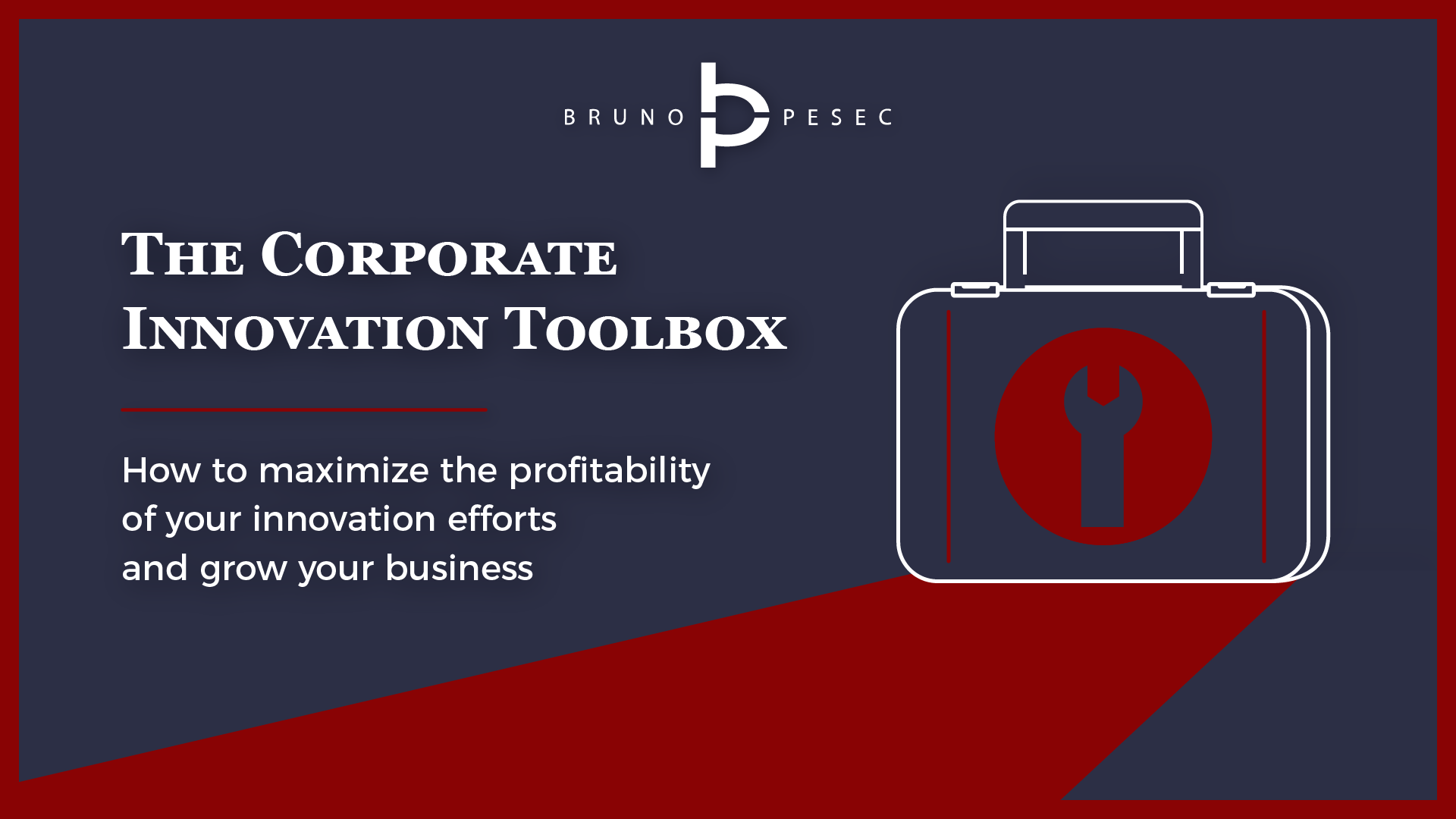 ---
Questions? You can reach me on bruno@pesec.no or +47 451 31 225.