Augmented Strategy
How to combine human intuition with insights from data to make better strategic decisions, faster.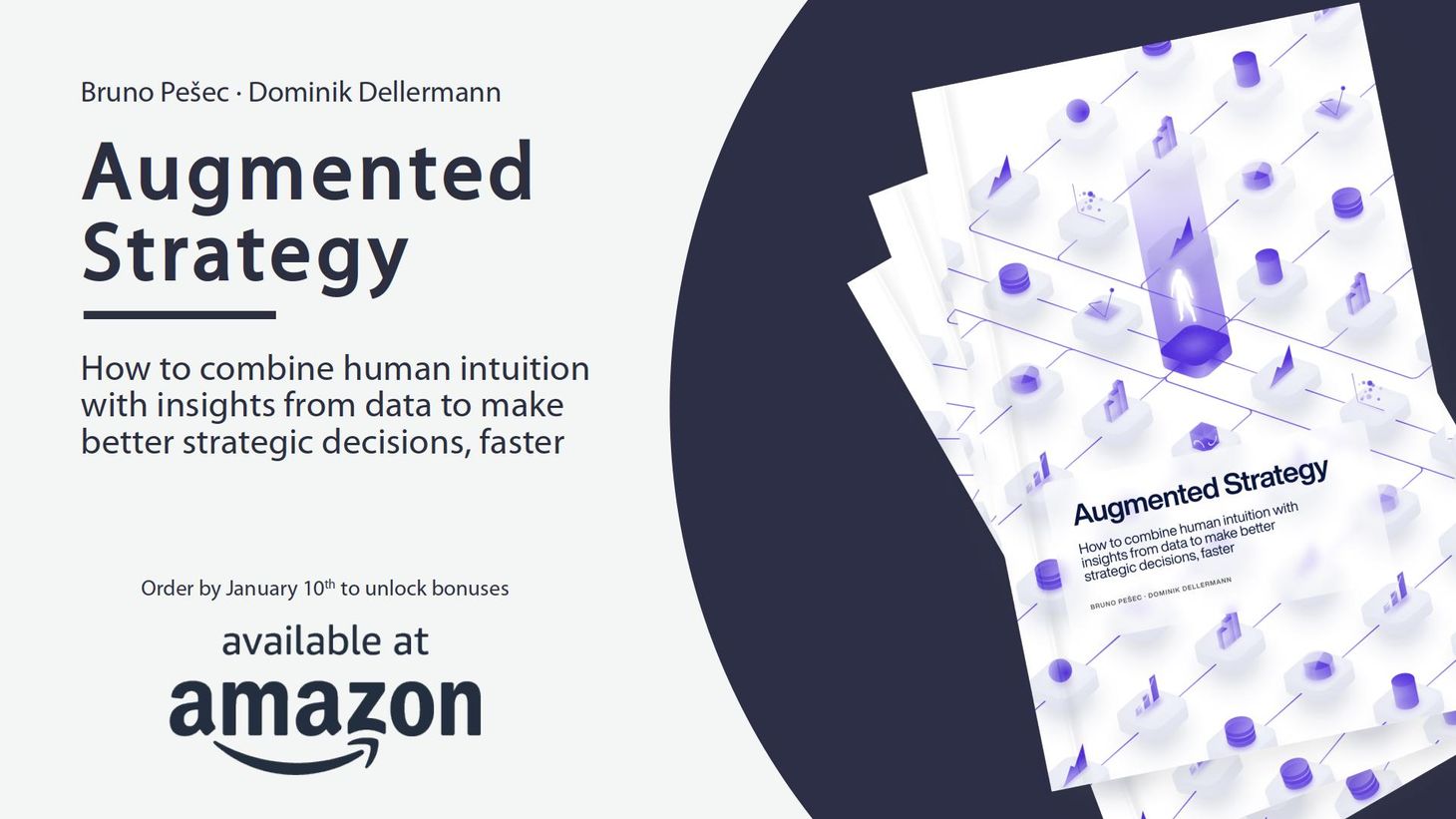 Have you ever asked yourself...
How can we make better business decisions?
How can we improve our strategy and likelihood of winning in the market?
How can we leverage all the data we have in our organisation?
Is all data useful?
How can we start today?
If yes, then this is the book for you.
A practical guide to better strategic decision making
The book will equip you with:
A pragmatic and actionable roadmap for augmenting your strategy and business decisions with the data you have.
Practical exercises and guidance to ensure you take immediate action.
Everything you need to start your journey towards a better strategy.
An actionable guide
You have one task: make better decisions, faster. Therefore, we also have one task: help you make better decisions, faster. That's why we've included examples, stories, and practical exercises that build on each other.
A digestible guide
There are plenty of tomes on strategy and data. We set a hard limit of 10 000 words on ourselves. The book you hold in your hands is approximately 8 000 words long. You can complete it—including the tasks—in one sitting. In fact, you could easily finish it in a single flight.
An evergreen guide
Strategy and data won't be going anywhere any time soon. We've framed examples and exercises in a specific way, so you can do them today, a year from now, and ten years from now—and benefit from them every time.
An experiential guide
All the advice in this book comes from two decades of experience and research, whilst working with business leaders on strategy formulation and implementation, and pushing the boundaries of artificial intelligence technologies. In short, we combine practice and theory to achieve the best possible results.
A scalable guide
You can work through this book by yourself… Or you could include your whole team… Or your whole department… Or your whole unit… You get the point! Since the book is actionable and digestible, it can easily act as your force multiplier towards augmented strategy.
Customer Reviews
Here are some of the early reviews:
⭐⭐⭐⭐⭐ · Insightful and Actionable
This book is a great read for strategists and business leaders in the digital age. The authors demonstrate how to mine data from within and outside the company and provide valuable insight on how to combine the advantage of different data types and sources. Thereby, the book is concise and aims to provide actionable advice, rather than tedious explanations.
Reviewed by Fabian Reck at Amazon.de on January 22, 2022
⭐⭐⭐⭐⭐ · Great book on how to augment your corporate strategy with data
The book gives a concise overview of how data can be used to make better strategic decisions for your company. It's quick and easy to read and I would recommend it to managers who are faced with the challenge how to best include data in their strategic decision-making.
Reviewed by Niki at Amazon.de on January 22, 2022
⭐⭐⭐⭐⭐ · A must-read for all business leaders - practical insights in such a short time
As business leaders one has to make decisions fast and correct - in the last years we try to base more decisions on data we collected, but had difficulties to analyse those - in the end we still made decisions on the "gut feeling".
This book gave me practical advice how to validate, structure and evaluate the data we have and thus providing a base for precise decision-making. Especially the many use cases help a lot!! Definitely worth the time also for "data AI beginners" like me :) enjoy the read!
Reviewed by L. Simon at Amazon.de on January 22, 2022
⭐⭐⭐⭐⭐ · Best book to improve your business strategy
I highly recommend this book to everyone who wants to make better business decisions! I learned so much!
Reviewed by M at Amazon.de on January 22, 2022
⭐⭐⭐⭐⭐ · Highly recommended!
A great primer on how to use data to leverage corporate performance!
Reviewed by Bert at Amazon.de on January 22, 2022
⭐⭐⭐⭐⭐ · Mind changing book on how to make decisions
Excellent description of how to make decisions in a data-driven world.
Reviewed by Esther Schulz at Amazon.de on January 22, 2022
About the Authors
Bruno Pešec helps business leaders innovate profitably, leveraging a decade of experience in various industries. Dr. Dominik Dellermann is the founder of vencortex©, whose Decision OS is the first and only system to augment the entire decision-making process by combining human intuition with AI. Both are martial artists.
Now available for order on Amazon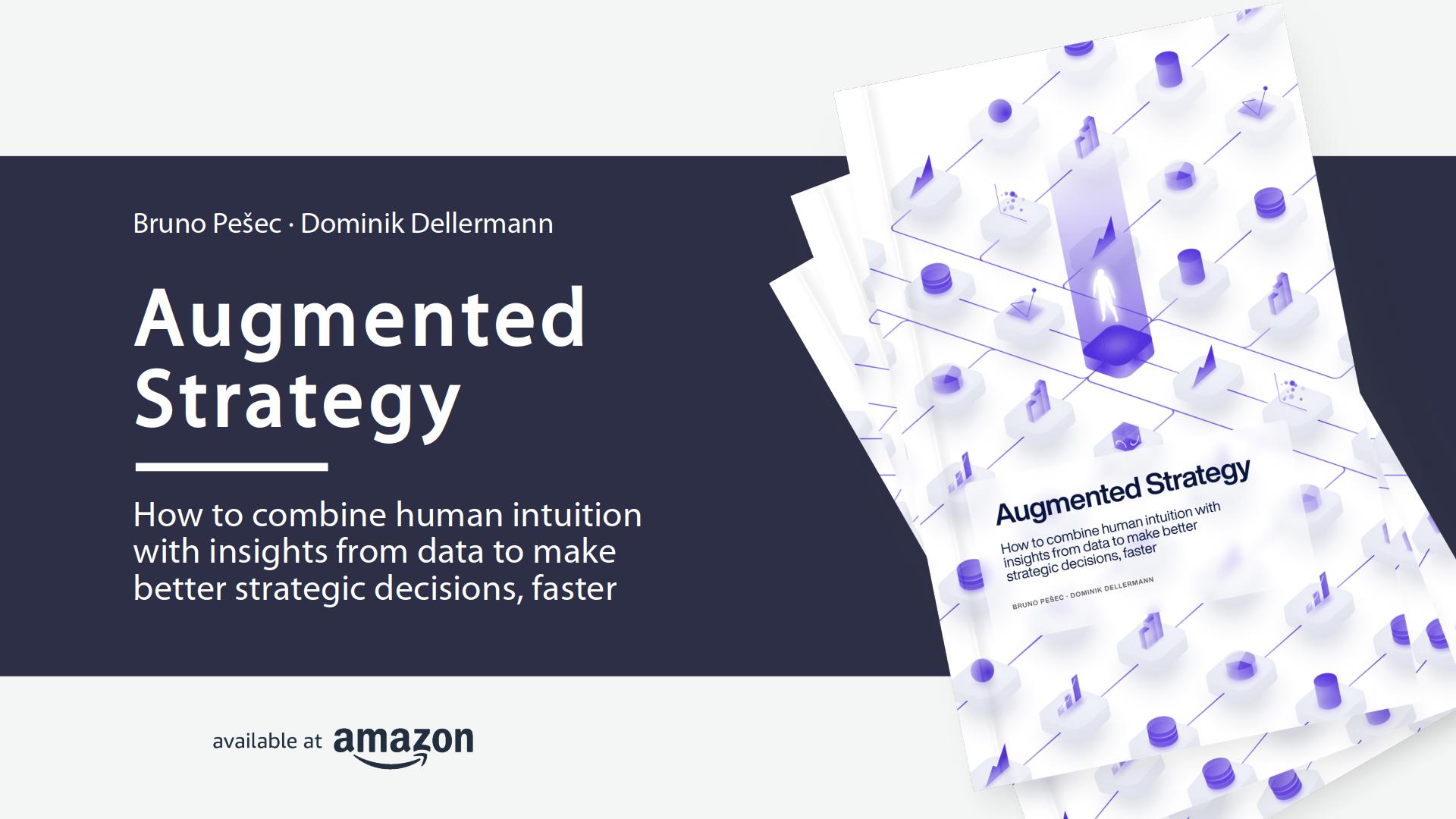 Amazon.com · Amazon.co.uk · Amazon.de · Amazon.fr · Amazon.es · Amazon.it · Amazon.co.jp · Amazon.ca · Amazon.com.au
Early order bonuses
Order before January 16, 2022 at 23:59 and unlock massive bonus opportunities:
Augmented Print (1 book)
Receive a digital copy of the book in the PDF format.
Augmented Livestream (2 books)
Receive an invitation to a private live stream where Bruno and Dominik will teach you how to augment your strategy using the data you have right now.
Augmented Ask (5 books)
Bruno and Dominik will host a group discussion and answer the most commonly asked questions they received on improving strategy and business results using data and human intuition.
Augmented Kickoff (50 books)
Bruno and Dominik will host a private session with you, and review your augmented strategy roadmap.
Augmented Implementation (100 books)
In addition to the above, Bruno and Dominik will provide 90-day implementation support via email, including 3 private calls during the same period of time.
Instructions for collecting your early order bonuses
Please send your Amazon order/receipt number, full name, and contact email to order@betterthinkingpress.com.
Early order bonuses are now closed.
Thank you to all who preordered the book!
Order now!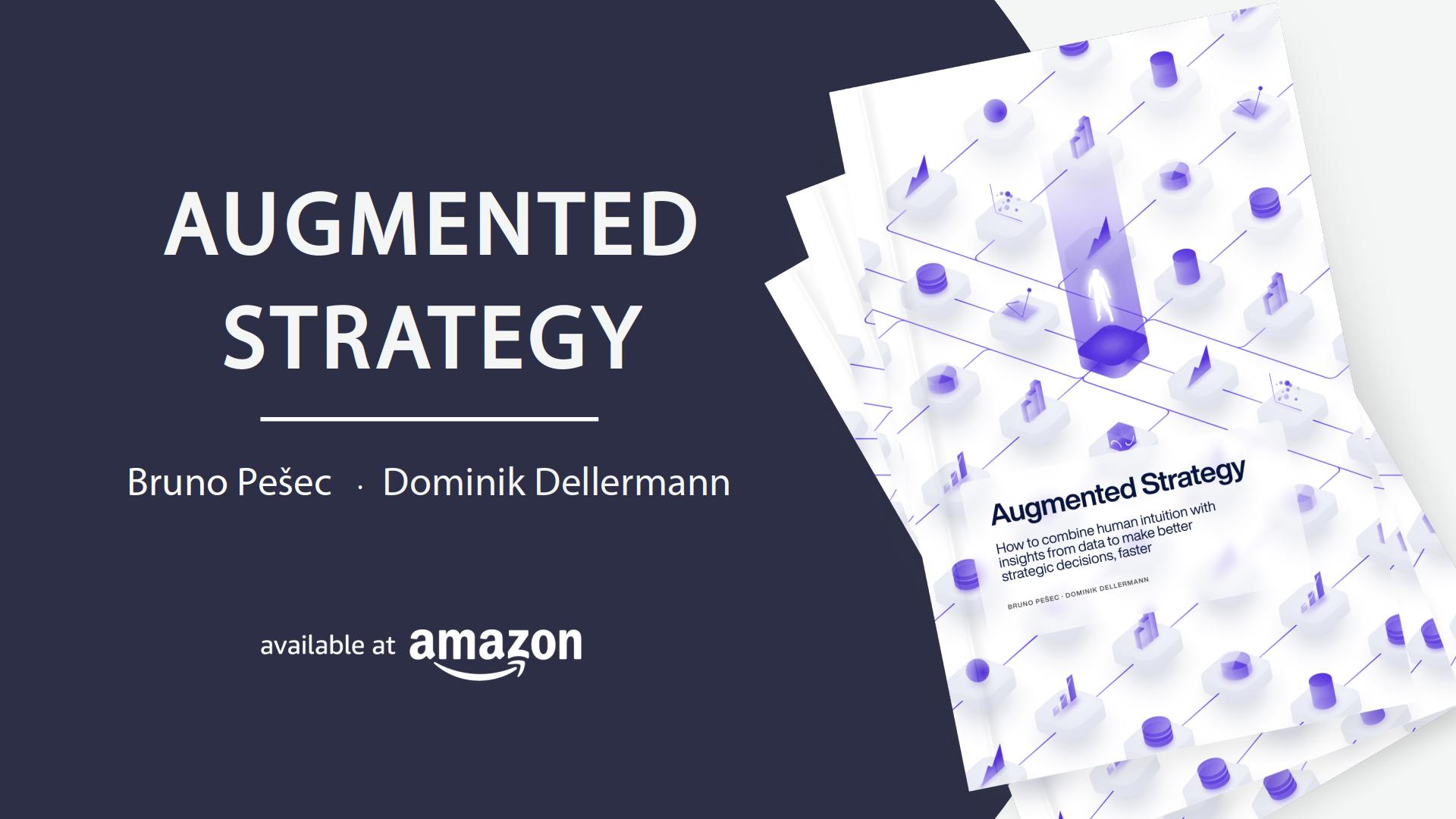 Amazon.com · Amazon.co.uk · Amazon.de · Amazon.fr · Amazon.es · Amazon.it · Amazon.co.jp · Amazon.ca · Amazon.com.au
---